We have a couple of options to clean the application logs, Automatically and Manually.
Automatic:
You can control the log cleanup properties by going to :
Administer > Configure > Application Settings > Update System Properties > Maintenance > Log Cleanup Properties

In the picture below the cleanup requires a Cron Expression. As a default it is set to cleanup daily at 8 PM (i.e., 20 hours). You can refer to Help on how to change the expression.

The second property refers to Retention time, as a default it is set to retain 5 days of logs.

After changing the properties, click on reload configuration link and also restart the kernels and webrunner.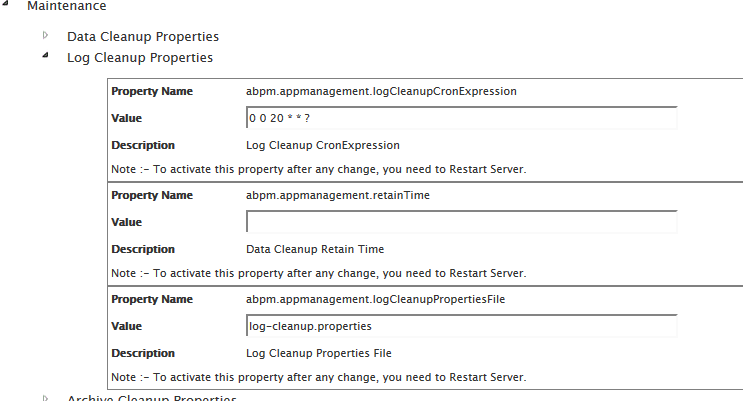 Manual:
To manually clear the logs (specially in cases where Adeptia is installed with embedded database).

Steps to clear logs from the Log database:

1. Save all the activities of Adeptia Server that you are working on.
2. Log out from the Adeptia Server.
3. Restart the Adeptia Kernel and Webrunner.
4. Now stop the Adeptia Kernel and Webrunner again.
5. Go to the location where Adeptia Server is installed and follow the path AdeptiaServer\ServerKernel\embeddedDb\db
6. Open the file logs.script and delete all INSERT statements from the file.
7. Now save the file logs.script after deleting all INSERT statements and then start the Adeptia Kernel and Webrunner